Custom Foot Orthotics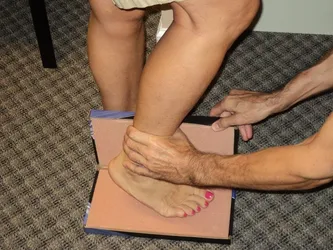 We cast your feet into a mold.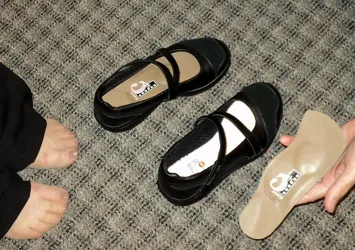 Custom made orthotics within 2 weeks.
What are Orthotics?
Orthotics are supports that go into your shoes. We only prescribe custom fit orthotics in our office. These are orthotics made only for you. There is a big difference between generic and custom made orthotics . Our orthotics support the 3 arches in the foot, not just one arch like most others support, and are flexible and comfortable. The materials used are a high quality leather or a high-tech man made material. But both are very comfortable.

Who needs Orthotics?
We prescribe custom orthotics mostly for patients with foot pain, plantar fasciitis, ankle pain and heel pain. However, we also prescribe them for people with knee and hip problems because if your foot is out of alignment and balance, it often causes the knee and hip joints to be out of alignment and balance, and this results in pain and eventual joint degeneration/arthritis of the knee or hip. The orthotics also help with spinal adjustments because out of balance feet will cause the pelvis and lower back spine to be out and not hold adjustments as well. If your pain is only in the feet, custom orthotics can stop the feet pain quickly.

The need for orthotics is often related to an issue with the natural functioning of the foot. Orthotics will often help to realign the 26 bones within the foot and ankle, and therefore take pressure off other parts of the body such as the neck, shoulders, back and hips. In addition, orthotics will help with distributing your weight properly and take pressure off of toes, bunions, a Morton's neuroma, heel spurs and other parts of the foot. If you have Heel Spurs, Morton's Neuroma or Plantar Fasciitis, you need orthotics to decrease the stress and pressure on these structures. Stop your feet pain now!
Click FEET PAIN to learn more about what you can do.

Orthotics are really for anyone, children and adults, with an issue of discomfort relating to standing, walking, running or any imbalances in the body that are known to cause related pain. The great benefit of orthotics is that they can be worn on a daily basis and can be utilized during most activities to take further stress off the body. Dr. Moss often realigns the feet bones in conjunction with the use of orthotics because the feet bones are often subluxated (mis-aligned). The combination of custom orthotics and adjustments usually results in great relief of pain.
How do I get these custom Orthotics?
Your feet are first cast in a mold to get an impression of them in the standing position. (The molding material is a dry, high tech material.) After we ask some important questions, the mold is then sent out to our lab. The finished product is returned to our office within two weeks at which time the doctor makes sure they fit properly and comfortably in your shoes/sneakers. There is a usual break-in period of one to four weeks. Most people love them and wished they had gotten them sooner. Dr. Moss and staff wear these custom made orthotics every day. Ask how they like them.

The manufacturing lab is called Foot Levelers, Inc. Click Foot Levelers.com to learn more. They have been making high quality orthotics for 65 years and we have been for utilizing their services for over ten. They back their products for a full year and we have never had any issues they did not immediately correct. This is why we utilize their services.
How much do custom Orthotics cost?
There are different styles and models of orthotics available depending on the type of shoe they will be used in. The price for a pair ranges from $200 to $325 depending on the model. And if you need or want more than one pair, there are great discounts for buying a second pair.

This is a great investment into your overall health and well being and the orthotics will last many, many years.
Are you ready to have your feet stop hurting?

Ask Us About Getting Yourself Custom-Made Orthotics Today! Call (757)547-5510